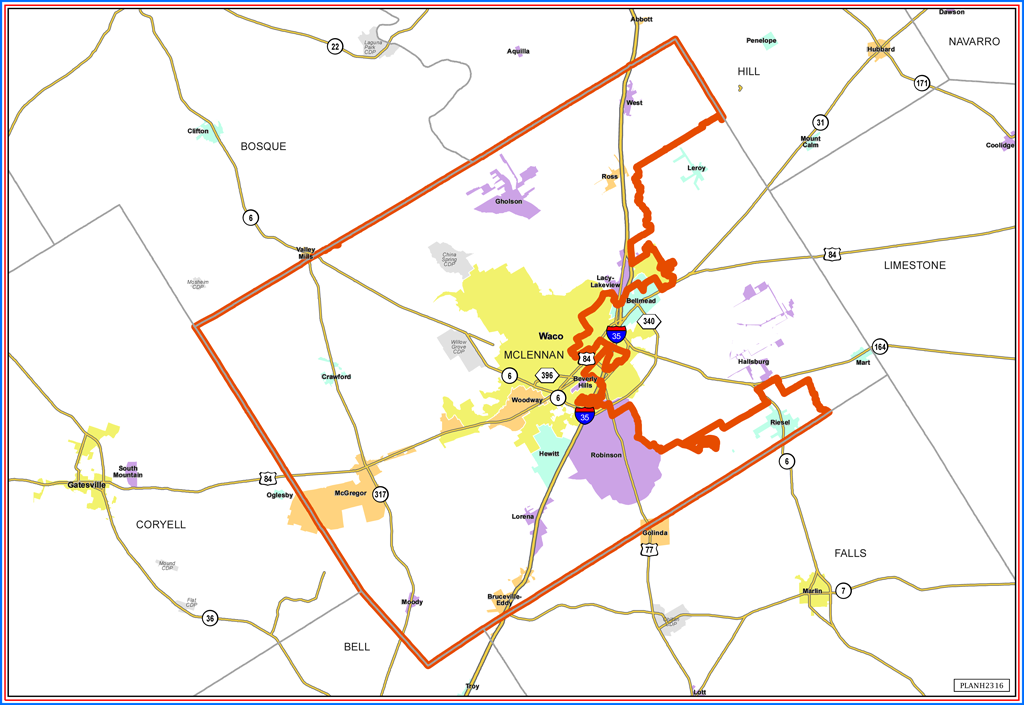 Physical Features: Central Texas county of mostly Blackland prairie, but rolling hills in west; drains to Bosque, Brazos rivers and Lake Waco, Tradinghouse Creek Reservoir, Lake Creek Lake; heavy, loam, sandy soils.
Economy: Agribusiness, education, health services.
History: Tonkawas, Wichitas and Wacos in area. Anglo-American settlers arrived in the 1840s. Indians removed to Brazos reservations in 1854. County created from Milam County in 1850, organized the same year; named for settler, Neil McLennan Sr.
Race/Ethnicity: (In percent) Anglo, 56.0; Black, 15.0; Hispanic, 26.4; Asian, 1.7; Other, 1.2; Two or more races, 2.0.
Recreation: Texas Ranger Hall of Fame, museum; Texas Sports Hall of Fame; Dr Pepper Museum; Cameron Park; drag boat races April and May; zoo; historic sites, homes; museums; libraries, art center; symphony; civic theater; Baylor University events; Heart o' Texas Fair in October.
Minerals: Sand, gravel, limestone.
Agriculture: Corn, silage, wheat, beef cattle, dairies. Market value $183 million.
Education: Baylor University; community college; Texas State Technical College; university extensions.
Waco (136,706) county seat; aerospace/aviation, manufacturing, higher education, medical services/hospitals, government/services; riverside park, historic suspension bridge, zoo; Waco Mommonth National Monument; wine festivals in April and October.
Hewitt (14,217) iron works, other manufacturing; hamburger cookoff in September.
West (2,940) famous for Czech foods; varied manufacturing; Westfest Labor Day weekend.
Part of Golinda (600, mostly in Falls County) and part of Valley Mills (1,220, mostly in Bosque County).